Description
Do your readers get upset when they come across a deal or post that has since expired? Prevent the frustration by using the Deal Expirator plugin for WordPress.
This allows you to mark a post as expired, or set the expiration date of a post. When the post reaches the expiration date, text or an image will tell the reader that the post is expired. You can customize the look and feel of the expired box via the simple plugin settings page.
Installing the Plugin
Purchase and download the plugin. Save it to your desktop.
Go to Plugins => Add New, then click on the Upload tab.
Click "Choose File", browse to the file you saved to the desktop, and press Upload.
Activate the plugin and configure the settings under Settings => Deal Expirator.
FAQ
Can I change the text that is displayed when a post expires?
Yep! This option is found in the plugin settings and is easily customizable.
Can I use my own image?
Yes, the image option can be specified in the plugin settings.
Can I change the font, border width, and border color?
Of course! These options can all be found in the plugin settings (Settings => Deal Expirator).
What themes is this plugin compatible with?
The plugin should be compatible with all themes! If you run into an issue, please contact me.
Who can I contact with questions, suggestions, or if I have a problem or need help?
Contact Mitchell with all questions, concerns, or help requests.
Screenshots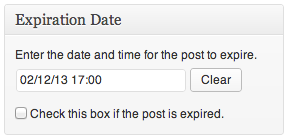 Where the magic happens. 😉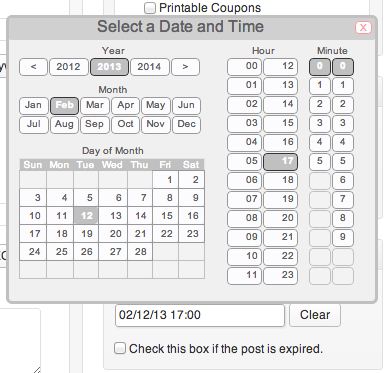 Select the date and time when the post expires.